All in the front… tight passage for the top trio at the Azores
After setting sail from Saint Malo early Wednesday afternoon, the Route du Rhum - Destination Guadeloupe fleet is beginning its 4th day at sea. And whilst he was hoping to make the switch into downwind conditions in the trade wind, Charles Caudrelier is actually spending his Saturday close-hauled and negotiating another front. Indeed, yesterday the skipper of the Maxi Edmond de Rothschild and his routing cell attempted a S'ly option in a bid to try to slip under the Azores High, but the timing proved too tight and the door slammed shut in front of the five-arrow giant. A frustrating scenario then, which has resulted in a lot of extra work for the leading solo sailors caught in the clutches of some particularly shifty and light weather conditions for most of the night.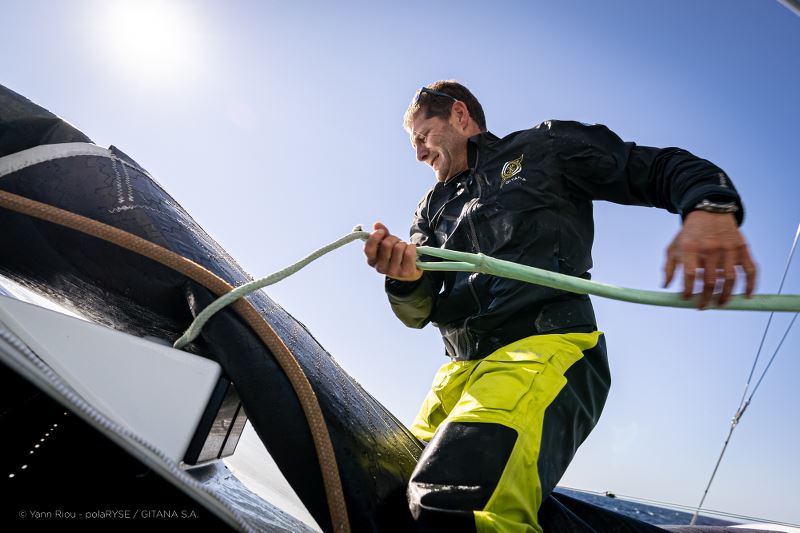 Testing conditions for the solo sailors
Strong wind is often described as difficult, but in solo format light airs are as tricky, if not more so when it comes to manœuvring the Maxi Edmond de Rothschild's massive sails at pace: "Last night was tough. Yesterday, François Gabart and I headed downwind after what proved to be a very physical front for me, linking together two tack changes in a very short space of time. Unfortunately, the wind abandoned us overnight and we had to head west again in the end to hunt down another front. This morning it was battle stations with a very twisty wind, fluctuating in strength and direction. François had the breeze to go in a straight line whilst I still had to link together the tack changes. The most important thing though is that the latter paid off!"
Second at the 13:00 UTC position report less than 4 miles behind François Gabart, who managed to get back in contact yesterday, Charles Caudrelier does seem better placed to negotiate both the front and the Azores over the coming hours. "Spirits are high! I'd have clearly preferred to have been downwind from this morning, but I'll just have to be patient, it's not far off now. We don't have a lot to complain about compared to the other fleets!" stressed the sailor, in the message sent to his shore team.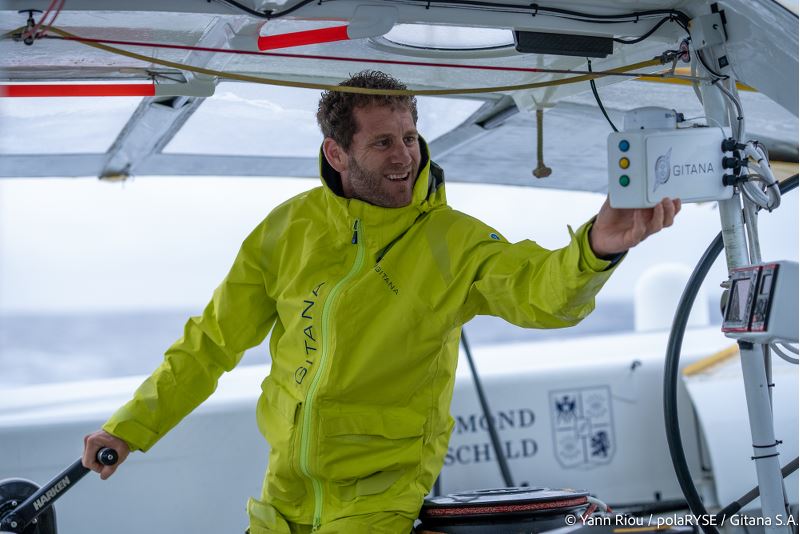 Extracts from the official radio link-up on the morning of Saturday 12 November
Charles Caudrelier (Maxi Edmond de Rothschild): "Right now, there's no wind at all and it's not much fun. François and I missed the door, so we've had to power westwards again. We'd gone to hunt down a ridge of high pressure and here we are headed towards the second front, which should be the right one! The trade wind is for tomorrow. We have a lot of work ahead of us. In the fronts, manœuvring is tough on an Ultim. We'd have preferred to hook up with the sunshine again, slipping along side by side again would certainly have been nicer! We believed in that option yesterday, but not for long. If we'd managed to drop down fairly quickly we could have slipped under the zone of high pressure, but that's not how things panned out. The second front crept up on us faster than planned. It's no big deal, we'll just start over again! I've been sleeping less since François Gabart has been alongside me. That may be why I made a mistake before the front. Perhaps we should have cut straight through, but it's nice to have someone alongside. It's immediately more exciting to have a boat neck and neck with you. It really fills up the days and injects some action! I made the most of being a few boat lengths ahead yesterday to get some rest, which is just as well as I didn't get any sleep last night."
Position report for the Ultims on Saturday 12 November 2022 at 13:00 UTC
1.     SVR Lazartigue (François Gabart) 2,377.4 miles from the finish
2.     Maxi Edmond de Rothschild (Charles Caudrelier) 3.7 miles behind the leader 
3.     Sodebo Ultim 3 (Thomas Coville) 51.2 miles 
4.     Idec Sport (Francis Joyon) 210.6 miles
5.     Actual Ultim 3 (Yves Le Blévec) 230.2 miles