Request for redress granted to Maxi Edmond de Rothschild
Since Wednesday at 14:15 hrs, Charles Caudrelier, deemed to have crossed the start line of the Route du Rhum - Destination Guadeloupe too early, was the subject of a procedure. The latter was lifted last night.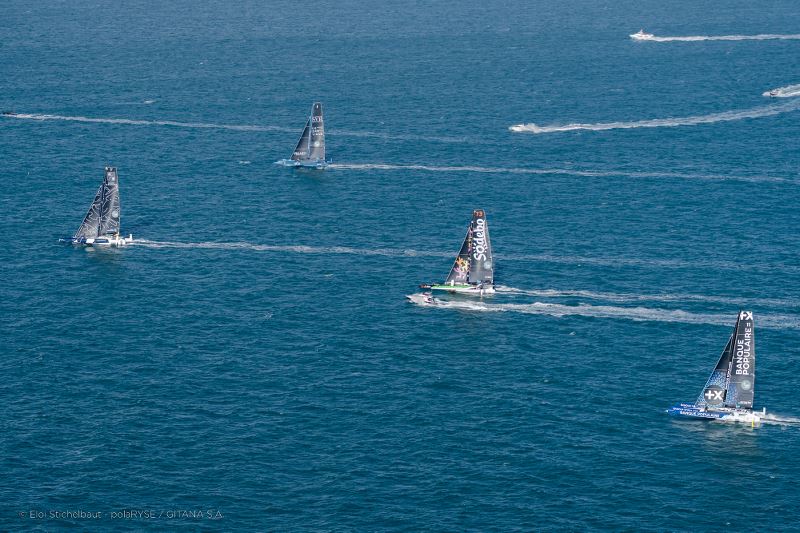 In the Sailing Instructions for the famous transatlantic race between Saint Malo and Pointe-à-Pitre, early starts incur severe penalties: in the event of the start line being crossed too early, the competitor receives a 4hr time penalty, which must be carried out within 48hrs of the start. This is what Charles Caudrelier was set to incur aboard the Maxi Edmond de Rothschild. However, the good news came in overnight once the jury was able to come together on the other side of the Atlantic.
In light of the various elements brought to its attention, namely the position of the Fra 17 Maxi Edmond de Rothschild at the time of the start, the president of the Race Committee has informed Charles that he was not OCS, which effectively means that he was on the right side of the line at the moment the starting gun fired.
The decision has been passed on to the boat by Race Management.
Cyril Dardashti, director of Gitana Team, gave his reaction to this decision: "Following the announcement that we had crossed the start line too early, we requested redress from Race Management because Charles believed that this was not the case. In order to justify this decision, we sent the Maxi Edmond de Rothschild's GPS track for the whole of the start phase, along with the positioning indicated by the Yellow Brick beacon supplied by the organisation team. Both elements are in agreement and show that we were 50 m from the start line when the starting gun fired at 14:15 hours. It comes as a relief for Charles and for the whole team. He can now dedicate his time solely and fully to his race. It's shaping up to be a lively and important day."
At the helm of the Maxi Edmond de Rothschild, Charles Caudrelier is currently leading the Route du Rhum – Destination Guadeloupe. At the 07:00 UTC position report this Friday 11 November, as the five-arrow giant was making her way along the Iberian peninsula, she boasted a lead of 26.3 miles over François Gabart and 45.4 miles over Thomas Coville.