Liberating start and first honours at Fréhel
The start of the Route du Rhum Destination Guadeloupe was a long time coming, but this Wednesday, at 14:15 hours, the 138 sailors competing in the 2022 edition set off at quite a lick. Upwind in a WSW'ly breeze of around twenty knots, Charles Caudrelier and the Maxi Edmond de Rothschild powered off at the front, immediately taking control of the fleet of Ultims. After a tack offshore and a little over an hour's racing, the skipper of Gitana Team treated himself to first honours at Cap Fréhel, some eight minutes or so ahead of second placed Armel Le Cléac'h. A single sour note still hangs over this very fine start to the race by the five-arrow maxi-trimaran. Indeed, the Race Committee believes that the sailor was too early on the line. This mistake, which incurs a severe 4-hour time penalty according to the Sailing Instructions, is currently being contested by the skipper, who may request a redress. Watch this space…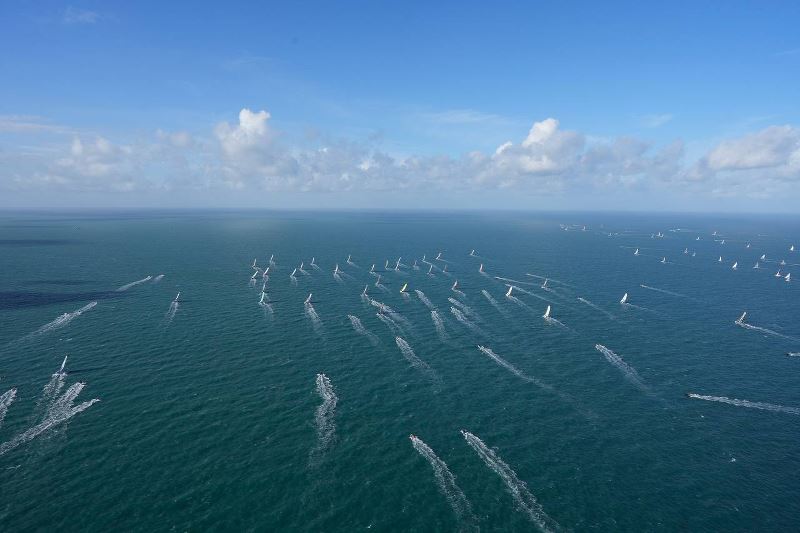 The magic of the Rhum still in full flow! Heavy emerald seas, dazzling light, around twenty knots of breeze as the starting gun fired and one hundred and thirty-eight boats powering up along a massive start line spanning more than 1.2 nautical miles! It was a magnificent spectacle from the skies, but rather uncomfortable out on the water for the support ribs, who struggled to keep up with the flying maxi-trimarans, which were especially at ease in these conditions. Close-hauled, the Route du Rhum – Destination Guadeloupe fleet had to put in a series of tacks to make the iconic mark of Cap Fréhel some 17 nautical miles away. Charles Caudrelier headed the fleet offshore, proving very efficient in his tack changes. Demonstrating real ease and mastery of his steed, he led the way around the first course mark.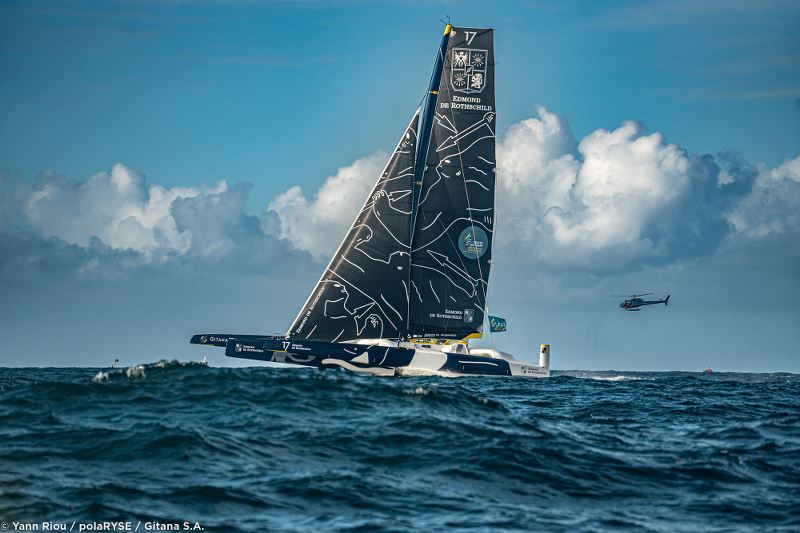 In the bay of Saint-Brieuc, the first course options became apparent within the fleet of Ultims. Whilst Charles Caudrelier favoured the coast and the waters around Bréhat, followed by SVR, Armel Le Cléac'h and Thomas Coville pushed out to sea. And so begins the battle of tack changes, which are set to punctuate the exit out of the English Channel and the whole of the first night at sea for the sailors! It promises to be a long night without any rest, albeit illuminated by the full moon, which is a powerful ally for solo sailors.
According to the latest forecasts, Ushant and the north-west tip of Brittany could well be behind them at around midnight tonight for the leading boats.
 Our thoughts at this time are with the skipper of the Ocean Fifty Leyton, English sailor Sam Goodchild, who was injured during the start phase and had to be evacuated from his trimaran. He is one of the firm favourites in his category.
Order of passage at Cap Fréhel
1.     Maxi Edmond de Rothschild (Charles Caudrelier) at 15:21 hours
2.     Banque Populaire XI (Armel Le Cléac'h) at 15:29 hrs, + 8 minutes
3.     SVR Lazartigue (François Gabart) at 15:31 hrs, + 10 minutes
4.     Sodebo Ultim 3 (Thomas Coville) at 15:32 hrs, +11 minutes
5.     Idec Sport (Francis Joyon)
6.     Actual Ultim 3 (Yves Le Blévec)
7.     Mieux (Arthur Levaillant)