Conditions favourable for speed
Tomorrow, at 12:35 UTC, the 13th edition of the Transat Jacques Vabre will set sail. On the eve of the big day, the weather forecasts are becoming clearer and the start of the race is shaping up to be quick. Conditions will become more boisterous off the north-west tip of Brittany ready for the passage of a front, which is set to roll through late Monday. Sébastien Josse and Thomas Rouxel will rapidly be in the thick of things.
This Saturday's departure of François Gabart and Yves Le Blévec's respective singlehanded round the world record campaigns, the former eastbound and the second westbound, is an unmistakeable sign! Indeed, if the record hunters are out, it's because the weather conditions announced in the North Atlantic over the coming days will favour speed.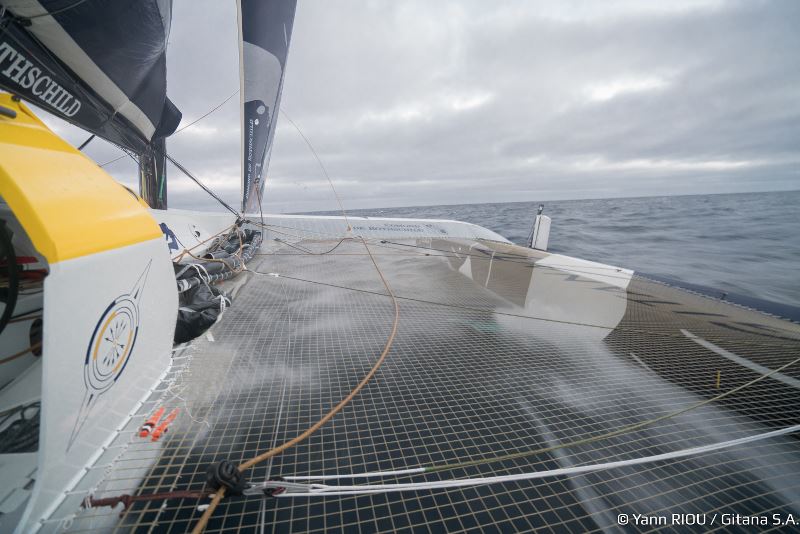 The skipper of the Maxi Edmond de Rothschild gives us the low-down on the initial hours of racing: "At start time, we'll be influenced by the tail end of a low with a WNW'ly wind of around twenty knots. These conditions should enable us to make for Etretat, where the organisation has planned a mark, on a single tack. Once we make the turn at Etretat, we'll be off on a long stretch of reaching (wind on the beam), which will last through until Monday lunchtime.  At that point, the pace will be fast, but for safety reasons we've already decided to play things conservatively in this first section. Between the shipping and the TSS (Traffic Separation System) off Cherbourg and then Ushant, the level of vigilance will have to be increased. In the English Channel, we'll have quite manageable seas of 1.5 metres, but once Ushant is behind us the atmosphere will change dramatically and the seas will be heavier with a 3 to 3.5-metre swell. We should be at Ushant shortly before midnight on Sunday."