Sébastien Josse expected into Les Sables d'Olonne late afternoon
For the past ten days almost, this Transat New York Vendée has offered up a whole range of weather scenarios in the North Atlantic, culminating with a light airs finish as the front runners approach the French coast. At noon, this Wednesday, Sébastien Josse was making headway around forty miles off Les Sables d'Olonne, still in a north-easterly wind of 6-10 knots, which is gradually backing round to the North and could even pick up to 12-15 knots close to shore with the effects of the thermal breeze.
With an ETA of between 15:00 and 17:00 GMT on the finish line, the skipper of Edmond de Rothschild is still lying in second place, some 24 miles shy of the leader Jérémie Beyou (Maître CoQ). Everyone will have to manœuvre their way into the 'Sables' channel, whilst Alex Thomson, in third place, will be diving down on the port from the North, less than 20 miles astern of the Mono60 fitted out by Baron Benjamin de Rothschild. 
In a very summery Bay of Biscay, Sébastien Josse described the latest conditions this morning: 
"We were a little quicker than forecast last night. We had to put in a few tacks but ultimately it was a straight course. However, I think we will have to reposition ourselves prior to the finish in 'Sables'.
I hardly got any sleep last night as there were a lot of fishing boats in the area and it was more prudent to be on watch. Right now, I have 8 knots of north-easterly wind with all the sail aloft and we're still awaiting a slight and gradual shift to a northerly breeze.
We've all experienced Solitaire de Figaro finishes in the area and I'm remaining vigilant because given the light airs colouring proceedings, we could quickly find ourselves becalmed a few miles from the finish line. Added to which Alex isn't far behind… I'm certainly keen to make the finish but I'm making the most of this race right the way to the finish and these final few miles in light airs are very interesting for testing the sail configurations and trimming."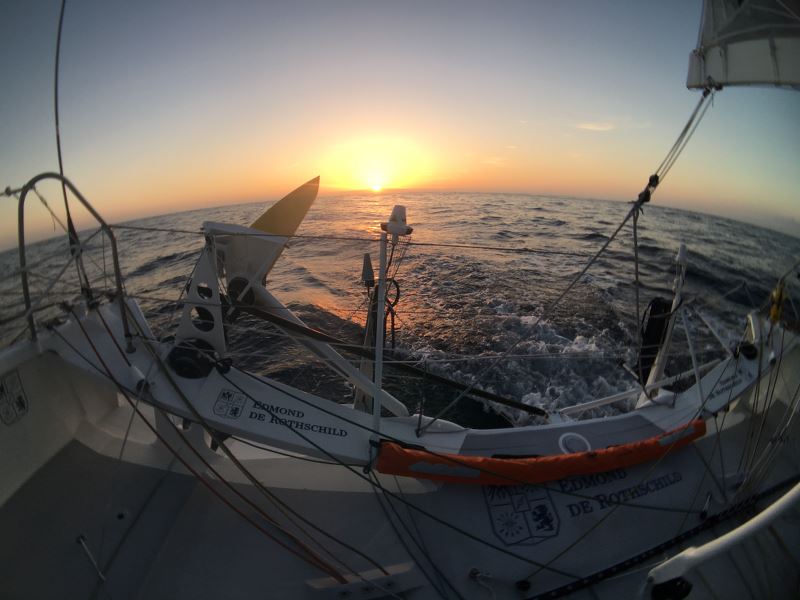 Transat New York - Vendée, position report on Wednesday 8 June at 10:45 GMT
1-    Jérémie Beyou - Maitre CoQ (France) 17.9 miles from the finish
2-    Sébastien Josse - Edmond de Rothschild (France) 24.4 miles behind the leader
3-    Alex Thomson - Hugo Boss (UK) 42,9 miles back
4-    Paul Meilhat - SMA (France) 202.5 miles back
5-    Vincent Riou - PRB (France) 273.3 miles back
6-    Tanguy de Lamotte - Initiatives Cœur (France) 283.5 miles back
7-    Kojiro Shiraishi - Spirit of Yukoh (Japan) 320.8 miles back
8-    Fabrice Amedeo - Newrest Matmut (France) 386 miles back
9-    Morgan Lagravière - Safran (France) 976.2 miles back
10- Yann Eliès - Queguiner-Leucemie Espoir (France) 994 miles back
11- Jean-Pierre Dick - St Michel-Virbac (France) 1,030.7 miles back
12- Conrad Colman - 100 % Natural Energy (New Zealand - USA) 1,355.2 miles back
13- Pieter Heerema - No Way Back (Holland) 1,371.4 miles back
Retired - Armel Le Cléac'h - Banque Populaire VIII